Nairobi's manufacturing center showing signs of growth once again
(Read article summary)
Although it slumped because of the global economic crisis and the post-election violence, Nairobi's manufacturing center is once again expanding.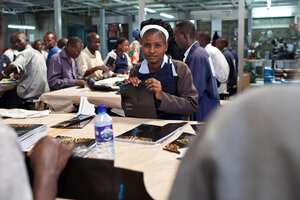 Brendan Bannon
This post is part of the Daily Dispatch project chronicling life in Nairobi, Kenya throughout the month of April.
With an incessant computer-controlled hiss clack clack, hiss clack clack, a million-dollar machine the size of a bus was churning out 14,000 bank flyers an hour.
Over in the corner, sales pouches for a cellphone firm's SIM cards were being folded. Nearby, neat stacks of "An Introduction to Public Health" stood ready for shipping.
This 44-year-old firm, Colourprint, housed in a nondescript factory off a potholed road, is one of hundreds of companies clustered in Nairobi's industrial area.
These 20-odd square miles southeast of the city center help power Kenya's $2 billion-a-year manufacturing sector, the second-strongest driver of economic growth.
That growth peaked at 7.1 percent in 2007, before the global economic crisis and Kenya's post-election turmoil knocked it down to 1.7 percent. Today, it's rising again, with the government boasting of expected 5 percent expansion this year.
Like many Nairobi-based businesspeople, Colourprint's chairman, Bushan Vidyarthi, is optimistic for the future.
"This is going to be a great country," he said, touring Daily Dispatches around the factory floor as technicians finalized print plates and workers glued and folded finished jobs.
"Kenya is a hub, and Nairobi's in the middle of it. Industry is highly developed, engineering, manufacturing, services, all of it. Airline connections are great, the roads will be great when they finish them. You have unlimited scope for business."
Vidyarthi's realistic as well, however. "Things have changed a lot in the last five years," he said. "But there is still too much red tape, we still have to pay 25 percent import duty on raw materials, and our electricity bills have tripled in three years."
Under its much-flaunted Vision 2030 program, the government in Nairobi has laid out ambitious plans to bring Kenya from a 'low-income' country to a 'middle-income' one in 19 years time.
Making it easier and cheaper to do business here in Kenya's capital is a key plank in that mission, as is encouraging even more international investors to come here.
---
Follow Stories Like This
Get the Monitor stories you care about delivered to your inbox.