Do protests in Nigeria, Uganda, and Burkina Faso have anything in common?
(Read article summary)
Despite similarities, the protests in these three African countries don't symbolize a broader movement for change in Africa.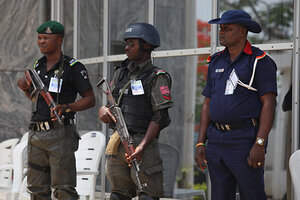 Sunday Alamba/AP
Three African countries are experiencing major protests this week: Nigeria (specifically the northern part of the country), Uganda, and Burkina Faso. The three countries have vastly different political situations, but it's worth exploring the differences and commonalities between these protest movements.
The differences stand out strongly. Nigeria is the most populous country in Africa (about 150 million people), with vast oil wealth and unpredictable politics. Its recently reelected President Goodluck Jonathan came to power only about a year ago, with the death of his predecessor. In northern Nigeria, the riots that began yesterday responded to long-held perceptions that Muhammadu Buhari, a three-time candidate with strong Northern support, has been cheated of his rightful victories. The announcement of Jonathan's lead in the results tapped into resentments, differences, and divisions between northern and southern Nigeria that go back a century.
Uganda, a medium-sized nation (about 35 million people), is a regional military power with steady economic growth. Uganda has had substantial political continuity during the quarter-century reign of President Yoweri Museveni, who won a fourth term in February. Since then, the opposition-led "Walk to Work" protests arose because of high food prices and, indirectly, because of Mr. Museveni's February win. "Walk to Work," which began last week, continued yesterday. That protest resulted in the arrest of opposition leader Kizza Besigye, a move that may fuel further dissent.
---