US city councils join the battle against Congo's 'conflict minerals'
(Read article summary)
A handful of cities in the US are exploring ways to make sure that their public funds are not inadvertently fueling the conflict in Congo.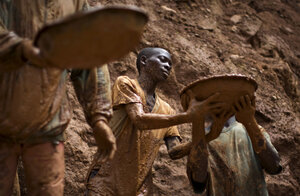 Finbarr O'Reilly/Reuters
It's certainly a belated realization, but the war in eastern Congo – broiling for well over a decade – is no longer hidden or ignored. Encouragingly, with this heightened public awareness has come not apathy rooted in the complexity or magnitude of the conflict, but rather a dedication to proactively confront the dynamics that even people far removed from Congo can influence.
As with other social movements, students have led the way. Across the United States, student leaders are stirring up interest on campuses, collecting pages of signatures, and petitioning their administrators and trustees to enact policies committing endowments and procurement plans to "conflict-free" investments and purchases. Attention from Congress and from celebrity activists to the connection between the conflict and the purchases of minerals from mines controlled by armed groups has provided tangible action to rally around and the necessary spotlight.
Now, city councils in Pittsburgh and St. Petersburg are setting the pace among U.S. cities to commit to ensuring that public funds are not perpetuating the conflict in eastern Congo. The Enough Project presented on the conflict minerals issue to the St. Petersburg city council earlier this week and expects a vote over the summer.
At least three other city councils are also considering actions to address support that their city budgets may be unwittingly providing to armed groups perpetrating atrocities in Congo.
---