Signs point to northern Sudan's targeting of civilians in border region
(Read article summary)
Firsthand accounts and the ethnic makeup of people displaced by violence in Sudan's border region indicate civilians may have been the target of attacks by northern forces.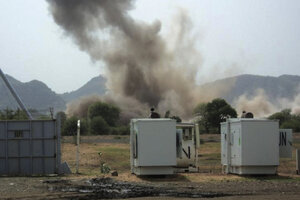 AP
Achol's face and neck were dotted with white burns from the sparks of a cluster bomb. Her daughter, one-year-old Nyibach, suffered from the same painful sores. Achol's family, which includes four other children who went missing in the chaos of the recent attack, is from Abyei, the hotly contested region on Sudan's north-south border.
Deploying Antonov planes and fighter jets, ground troops, tanks, and government-aligned militias, the Sudanese government's military offensive late last month in Abyei displaced upwards of 100,000 people. Abyei's leaders, themselves displaced along with the majority of the area's Ngok Dinka residents, estimated that 116 civilians were killed, but the death toll is difficult to determine because the government has restricted access.
But casualties like Achol and Nyibach aren't simply "collateral damage" of a confrontation between the northern and southern armies. An internal UN memo, the ethnic make-up of the displaced, and accounts by those who fled indicate a campaign by the Sudanese government to deliberately target civilians, with the aim of depopulating the Abyei area of residents that identify as southerners.
---