As Qaddafi falls, South Africa still keeping its distance from Libya's rebels
(Read article summary)
South Africa is a global supporter of human rights. But it has a habit of lending support when it comes to dictators like Libya's Muammar Qaddafi.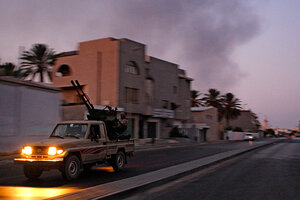 Sergey Ponomarev/AP
As a country that brought a racist government to its knees -- at least partly with the help of the international community -- South Africa might be expected to be a voice for the powerless against a brutal dictatorship.
But when Libyan rebels took on President Muammar Qaddafi, South Africa mostly stood aside. Having voted at the UN Security Council for military intervention (on humanitarian grounds), South Africa later opted for 11th hour African Union mediation that would have kept Qaddafi in as interim president. (Both Qaddafi and the rebels refused to participate in the AU negotiations.) Now that Qaddafi's forces are all but expelled from Tripoli, South Africa continues to insist that it holds the moral high ground. Richer nations were only after Libya's oil; African Union members would have achieved the same results with less bloodshed, South African officials insist.
"The way forward should include the drafting of a new constitution leading to the first ever democratic elections," South Africa's Minister for International Relations Maite Nkoana-Mashabane told reporters on Monday. He said the AU's effort to negotiate in Tripoli was not a failure, and that South Africa remains committed to the "AU roadmap."
---