Bombers coopt the 'symbol' of Mogadishu's National Theater
(Read article summary)
Mogadishu's National Theater has been used as a symbol in Somali politics and the western press, but others used it as a symbol of their own during Wednesday's bombing, writes a guest blogger.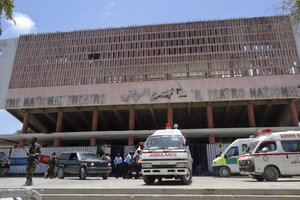 Farah Abdi Warsameh/AP
• A version of this post ran on the author's blog, www.sahelblog.wordpress.com. The views expressed are the author's own.
Maybe Mogadishu is in the early stages of a renaissance. Maybe Somalia is still a very dangerous and unpredictable place, whose would-be government is still a mess mostly propped up by regional and international powers. Maybe both. The point about the theater is, though, that if you – as a government or a news outlet – want to use a symbol in making your political argument, then others might decide to use that same symbol in making their (very different) political argument.
Here is a roundup of references to the theater in the weeks leading up to yesterday's attack:
Tuesday, March 20 (Reuters):
In the roofless, bullet-ridden building that houses Mogadishu's National Theatre, Somali musicians staged a concert for the first time in 20 years, a sign of a marked improvement in security in the war-ravaged Horn of Africa country.

Under pressure from African Union and Somali troops, al Qaeda-linked militants withdrew from Mogadishu in August prompting a return to relative calm in the capital, although the rebels still manage to launch sporadic attacks.
Think you know Africa? Take our geography quiz.
Wednesday, April 4 (New York Times):
---