Peru sees shadowy hand of Chávez – everywhere
Peru's Congress is investigating new Bolivarian 'fair-trade' groups. Are they funded by Venezuela?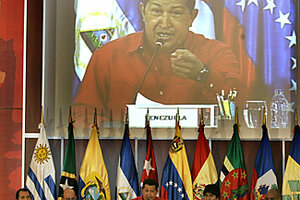 Leslie Mazoch/AP
Hugo Chávez. The mere mention of the Venezuelan president's name in Peru is often enough to make headlines in the leading newspapers.
Mr. Chávez has been a controversial figure in Peru since early in the decade. In 2006, he described then-President Alejandro Toledo and the current President Alan García, as "caimans from the same sewer."
The García administration, in turn, vociferously suspects – but hasn't proved – that Chávez is using his oil money to foment unrest here on many fronts. In recent weeks, Venezuela has been accused of supporting violent protests by farmers. García has complained that Venezuela's new embassy in neighboring Bolivia could serve as a training camp for radical Peruvians, and his Cabinet chief, Jorge del Castillo, hinted that Venezuela was secretly sending money here to fund left-wing groups.
Peru's Congress formed a special committee last month to investigate the appearance of organizations that support the Bolivarian Alternative for the Americas (ALBA), Chávez's fair-trade alternative to the US free-trade agreements. The Foreign Ministry investigated the "ALBA Houses" last year, finding nothing wrong. But Congress was not satisfied. The local press, citing congressional sources, claims that there are more than 300 of these houses in Peru.
---