Chávez support slips in Venezuela
Food shortages and rising prices are eroding the leftist leader's approval ratings.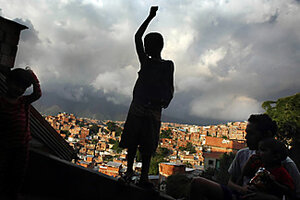 Mario Tama/Getty Images
Petare is a sprawling hillside barrio in Caracas, and poor neighborhoods like this have long been epicenters of support for Venezuela's President Hugo Chávez.
Yet when a candidate from a opposition party launched his mayoral bid here recently, residents greeted him with honking horns and enthusiastic handshakes.
"I used to believe in [Mr. Chávez], when I still believed he'd do what he promised," says Norelys Rangel, a lifelong resident here. Instead, she says, she often can't find milk or rice. In fact, she says, life has gotten harder.
Petare and other neighborhoods like it are still very much Chávez territory, but signs of his waning support in those areas highlights a broader trend. Despite the country's vast oil wealth and near record oil prices, Venezuelans are complaining about product shortages, crime, and high inflation.
Many also say the president too often meddles in international affairs while problems mount at home. For them, Chávez's move this week to deploy troops to the border with Colombia – which is slowing the flow of key goods during milk and meat shortages – is a case in point.
It all adds up to a key question: Will Chávez be able to ride out this political storm or is waning enthusiasm irreversible?
---