In tense Bolivia, a push to bridge political divides
As four provinces press for more autonomy, one group teaches how to heal racial and political tensions.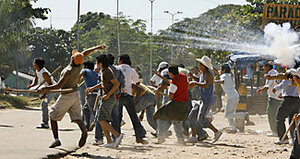 Antonio Suarez/AP
In a country where the president calls his political foes in the east an oligarchy, and graffiti in opposition strongholds calls for his death, Chiaki Kinjo's job is daunting.
As a conflict resolution facilitator in Santa Cruz – the epicenter of dissent against Bolivian President Evo Morales – it is her job to get union members, neighborhood representatives, and parent association leaders to see eye to eye.
"Divisions in Bolivia have created so much violence," says Ms. Kinjo, who heads the Santa Cruz branch of Fundacion Unir Bolivia, a group that aims to bridge racial and political divides.
From the outside, it often looks as if Bolivia is on the brink of civil war.
Last week, Santa Cruz voters overwhelmingly approved statutes giving the province more autonomy from the central government. It's the first of four provinces planning to do so in coming weeks. But Mr. Morales dismisses the autonomy votes as illegal and hopes to counter them and revive his presidency by holding a referendum on his rule within the next three months.
Yet as Bolivia finds itself at a crossroads – in the midst of a power struggle that will either lead to consensus or more clashes – there is also a growing sense of conflict fatigue. And groups like Unir, in the absence of dialogue at the top, are trying to reach those who want to forge peace from the bottom up.
"Politics has entered all of our institutions and divided us," says Veronica Arrencibia, the head of a parent's association that participates in Unir's workshops. "We are trying to learn that we can accomplish our objectives, no matter what our views are."
Bolivia's racial and political rifts
---