Mexico prepares for (Ford) Fiesta
Ford will build its new Fiesta subcompact car in Mexico, the firm announced Friday.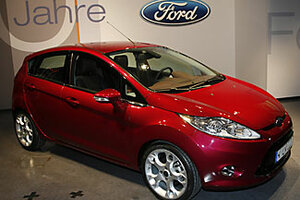 Hermann J. Kippertz/AP/file
Ford Motor Co., in a struggle to regain profitability, will build its new Fiesta subcompact at a factory near Mexico City for sale in the US.
It is a blow to Detroit.
But for Mexico, Friday's announcement – which has been heralded as the largest manufacturing investment in the country's history – is a decisive feat.
President Felipe Calderón called the $3 billion deal a "turning point."
While the US automaking industry sags – undergoing massive restructuring and downsizing – Mexico's production has expanded, especially for small, low-cost vehicles. Last year, Mexico produced a record number – over 2 million – and analysts forecast that by the year 2015 production could at least double.
A US recession is bound to affect the Mexican car industry, where the majority rolled out head north for export. But amid high gas prices that are fueling the market for smaller cars, Mexico could position itself as a center for fuel-efficient vehicles – a pivotal development after years of shedding manufacturing jobs to China and beyond.
"Asia is where all the growth is. But now all of a sudden Mexico is looking pretty good again," says Greg Gardner, an analyst at the consulting firm Oliver Wyman in Troy, Michigan. While China offers automakers lower wages than Mexico, he says that the gap is shrinking. Plus, he adds, Mexico is closer to the US and has experience in automaking. "In the past two years, Mexico has really rebounded."
---