Military abuses rise in Mexican drug war
The US Senate votes this week on a $465 million aid package that includes oversight of Mexico's military and courts.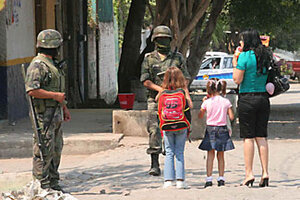 Newscom/FILE
When military trucks came rolling into this valley of Michoacán in December 2006, as the Mexican government opened its first front against drug factions, Antonia Moreno was ecstatic.
But 18 months later, Ms. Moreno's view has hardened. She says soldiers entered her home illegally and dug up a stash of money she'd buried in a horse stall next door. "That's everything we owned," she says as she files a human rights complaint against the Mexican military.
As Mexico throws an unprecedented 25,000 troops and police into its war against narcotrafficking, more citizens here are wondering if the illegal detentions and unlawful searches are worth the price. It's a security versus loss of liberties trade-off that echoes concerns raised by Americans in their war on terrorism.
Nowhere is that ambivalence felt more acutely than in Apatzingán. This central Mexican city of 93,000 is notorious for its drug-trafficking cartels. It's also where more complaints of abuse (27) have been filed this year against the military than in any other city in Michoacán, the state with the most military abuse complaints filed.
Human rights abuses have slowed the passage of a US aid package to help Mexico and Central America fight drug trafficking. First year funding of $465 million was approved by the House of Representatives last Thursday and is expected to be passed by the Senate this week. Initially, the aid was conditioned on more oversight of Mexican federal forces and the justice system – stipulations that stoked a political outcry in Mexico as another example of US arrogance. The requirements have since been softened.
---