Will Colombia's Ingrid Betancourt run for president?
The Franco-Colombian politician was freed from a jungle rebel camp last week. Now Bogotá's buzzing with talk about her political future.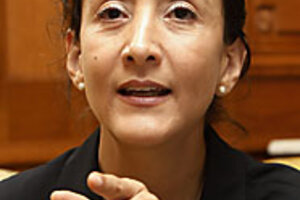 When she was rescued last week, former presidential candidate Ingrid Betancourt brought back a few mementos from her six years as a hostage of Colombia's leftist rebels: a rosary she made from buttons and string, a dictionary the guerrillas had finally allowed her to have, and a 190-point plan to govern the country.
While Ms. Betancourt is feted across France – her second homeland – after the dramatic July 2 operation that freed her and 14 other hostages, the political scene in Colombia is abuzz with speculation about whether the once fiery senator will make another run for president.
Though initially after her rescue Betancourt said that the presidency seemed "very distant", she has not ruled it out and political analysts have already placed her on the list of possible candidates for the 2010 elections.
"Ingrid Betancourt's reappearance on the scene changes the political chessboard even if she hasn't made clear her intentions," says political analyst Pedro Medellín.
She certainly has been preparing for a presidential bid. In the black backpack she slung over her shoulders when she was rescued, Betancourt had a thick stack of lined notebook paper tied with a string. In that bundle, she and former senator Luís Eladio Pérez had laid out a 190-point government program.
---