Global rally for Colombia's kidnapped
Demonstrators from presidents to pop stars filled the streets across Colombia and in 80 cities worldwide, demanding that FARC release all remaining hostages.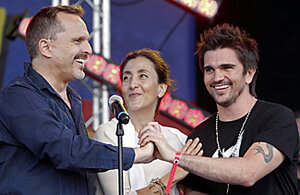 Vincent Kessler/Reuters
– Hundreds of thousands of Colombians poured onto the streets across the country Sunday in massive rallies demanding freedom for hundreds of hostages. They were joined by demonstrators in 80 cities around the world in a show of solidarity. It was the loudest message to leftist rebels yet to stop kidnapping and lay down their arms.
Wearing white T-shirts with slogans such as "Free them now" or simply the name of a hostage, marchers in Bogotá wound through the capital's main avenues, filling plazas and public parks. Television broadcasts here showed similar scenes in every major Colombian city.
The marches were called following the July 2 rescue of 15 top-level hostages held by the Revolutionary Armed Forces of Colombia (FARC), including French-Colombian politician Ingrid Betancourt, three American defense contractors, and 11 members of Colombia's security forces.
Ms. Betancourt led a simultaneous event in Paris Sunday where she read out a list of the names of 27 hostages still held by the FARC as bargaining chips for negotiations with the government and called for their release. "We want freedom for everyone," said Betancourt.
"The time has come to exchange rifles for roses," she said in a call to FARC leaders before ceding the stage to Colombian pop singer Juanes and Spanish actor and singer Miguel Bose, who gave a free concert.
---