Quiet rise of Latin America's center
Pragmatism gains over ideology, but some freedoms wane, new reports indicate.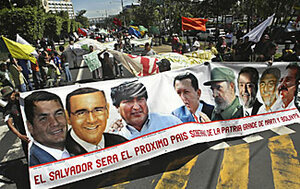 Esteban Felix/AP
The leftward tilt of Latin America has dominated headlines over the past five years, but during the same time, more of the region has moved toward the political center.
The number of Latin Americans identifying themselves as moderates grew from 29 percent in 2003 to 42 percent this year, according to the annual survey by Latinobarometro, a Chile-based polling group.
That is despite the continued dominance of Venezuela's leftist president Hugo Chávez and the election of his allies, including Rafael Correa in Ecuador, Evo Morales in Bolivia, and Sandinista Daniel Ortega in Nicaragua.
But instead of signaling dissatisfaction with leftism, a burgeoning center indicates more newcomers are joining the political fold seeking pragmatic solutions from leaders, no matter their ideological tendency, says the executive director of Latinobarometro, Marta Lagos.
---