Cuban activists say they were beaten on eve of 60th human rights anniversary
Leading Cuban activist Belinda Salas says she and others were beaten Wednesday after leaving the US Interests Section in Havana.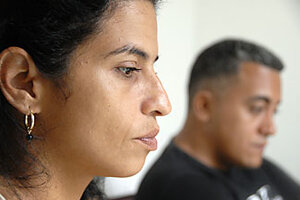 Alfredo Sosa/Staff/FILE
On the eve of the 60th anniversary of the Universal Declaration of Human Rights Wednesday – a day when Cuban dissidents traditionally gather for protest marches – Belinda Salas, a leading Cuban activist, was beaten by Cuban police, she said via telephone in Havana.
Ms. Salas, the director for the Latin American Foundation of Rural Women (FLAMUR), says she, her husband, and another couple were leaving the US Interests Section in Havana, where the group regularly sends e-mails and news to Cuban activist groups based in the US and Europe, when two police cars stopped next to them. Eight officers began to beat them on the street, just after 1 p.m. Tuesday, and detained her husband and the two other activists.
Salas says she does not know where they are being held, but she says she knows the motive. "They want to sell the image that they respect human rights, so they beat us to avoid our peaceful protests planned for [Wednesday]," says Salas, who was interviewed by the Monitor earlier this summer for a story on women activists in Cuba, part of a series on change under way in the island nation since Raúl Castro took the helm from his brother, Fidel Castro.
---