Raúl Castro puts his own stamp on Cuba's leadership
He replaced some of Fidel Castro's protégés in favor of his own allies.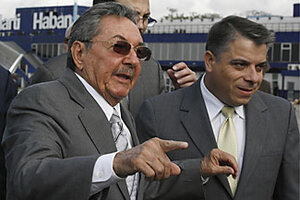 Enrique de la Osa/Reuters
In replacing key figures associated with Fidel Castro's near 50-year reign of Cuba, President Raúl Castro has taken his boldest move yet toward putting his own stamp on the government of the socialist nation.
The shake-up, the biggest since Raúl Castro officially replaced his older brother last year, includes two who were often considered potential successors to Fidel Castro.
"Raul is putting his stamp on the government, in terms of personnel and restructuring," says William LeoGrande, a Cuba expert at American University in Washington. "If anyone had a doubt about who is in control, with this it can be put to rest."
It's not clear what the shift means in terms of economic policy or US-Cuba relations. One interpretation is that Raúl Castro is fulfilling a promise made a year ago to undo burdensome bureaucracy, a pressing concern amid today's economic crisis. The shuffle also moves Raúl's personal allies up, giving him new authority as he moves forward to address the island nation's deep economic woes.
---