Rio hopes small fixes will yield big drop in crime rate
The new mayor of Rio de Janeiro, Brazil, has begun a zero-tolerance policy aimed at resuscitating one of the world's most crime-ridden cities.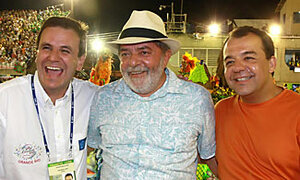 AFP/getty images/newscom
Checking car registrations in Rio de Janeiro is a thankless task.
So far this morning, transit official Roberto Barbosa has been verbally abused by drivers and chewed out by pedestrians. An entire busload of commuters screamed invectives as they rode past.
Mr. Barbosa, his colleagues, and hundreds of other city and state officials are the sharp ends of a new push to transform a city famous for its "anything goes" outlook into a metropolis where laws have meaning again.
"We Cariocas are famous and proud of our informality, but it had become illegality, too," Zuenir Ventura, a popular columnist and author, says of Rio's decline into one of the world's most crime-ridden cities. "There was no respect for public places, no respect for noise levels, no respect for traffic laws, no respect for rules of any kind."
"It's going to be difficult to change because you have to change the whole culture. It takes time but you have to start somewhere and we're starting now."
The new crackdown is orchestrated by Eduardo Paes, Rio's new mayor. Mr. Paes, who took office on Jan. 1, is embracing the task of resuscitating a city that has been falling into disrepair ever since it was stripped of its capital status in 1960.
Rio, according to most observers here, lost its way as authorities turned a blind eye to lawlessness. Bit by bit the city became a place where anything goes, from street prostitution in tourist areas to drug trafficking in favelas, or slums, to the almost universal flouting of traffic laws.
A page from Giuliani's playbook
---