Haitian earthquake relief: Neighbors help neighbors as aid trickles in
As the dust settles in Port-au-Prince, Haitians dig loved ones out of the rubble - and wait for relief. Concerns of looting mount.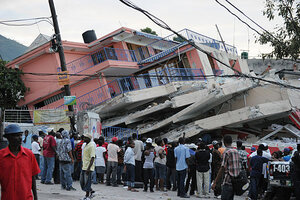 Mary Knox Merrill/Staff
At every turn in Haiti's beleaguered capital, Port-au-Prince, there is a sense of anxious waiting, sometimes quiet, sometimes frantic - for water, news of loved ones, or a way out of the country.
At one street corner, a horde converges on a seven-story building that had collapsed entirely while three men scramble to lift a section of concrete floor off a man buried and dead underneath. When a bulldozer comes, residents panic. The entire structure could collapse and swallow up this patch of Port-au-Prince as have so many other former buildings across this city of two million.
"We lost 10 employees and three are still in there," says Tarek Bakri, the owner of the building, who lived on the top floor.
The destruction here is enormous two days after a 7.0 earthquake hit 15 miles from the capital, killing an estimated tens of thousands of people and injuring hundreds of thousands more.
Entire blocks are flattened. A corpse lies alone as residents shuffle past, still stunned from the past 48 hours.
"We need everything right now," says police officer Sylvaince Miguel. He's one of some 9,000 police in this entire country of 10 million, by far the poorest country in the Western Hemisphere.
Limited food and water
As limited food and water grow more scarce, many are concerned about what's to come.
Parking lots and fields have become impromptu settlements. Clothes hang on the intricate wrought iron gate of a church as if it were a clothesline.
Jean-Noel Coute is living on a blanket in a field next to Port-au-Prince's international airport with his wife and four kids. There, residents, who had scheduled flights out of the country, are waiting to leave, even though the airport is expected to be closed to outgoing commercial flights for two more days.
Others, like Mr. Coute, have lost everything and have turned the park into a temporary neighborhood. Many sing hymns.
So far, aid workers are scarce
---