Marines to aid Haitian earthquake relief. But who's in command?
Some 5,700 US marines and soldiers are expected to join Haitian earthquake relief efforts this weekend. The UN says its peacekeeping force should be in command. The US says no.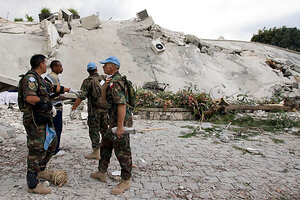 UN Photo Logan Abassi / Reuters
The marines are about to hit the shores of Port-au-Prince – an arrival that would almost certainly send shivers up spines anywhere else in Latin America.
But amid the Haitian earthquake relief effort – in a country that has no military of its own and has hosted an international peacekeeping force since 2004 – the arrival is unlikely to cause many ripples among locals.
Yet the dispatch of some 2,200 marines – as well as 3,500 soldiers from the 82nd Airborne Division – is raising some command and assignment questions.
When the troops arrive, perhaps this weekend, who will be in charge, given that the Haitian government is almost disintegrated and the 9,000-strong UN peacekeeping force, MINUSTAH, is dealing with its own losses?
Will the 5,500 US military personnel be part of an international, or an American, security effort?
Who's the boss?
"It's fully desirable that all these forces should be coordinated with the UN MINUSTAH commander there," UN Secretary General Ban Ki-moon said Thursday.
US officials, on the other hand, say that while the US may "coordinate" with the peacekeeping operation's leadership, US troops will be under American command.
---