Test for US, Obama in Haiti earthquake response
The US response to the Haiti earthquake will be important for America's – and President Obama's – image in the region.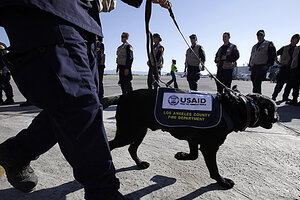 Lynne Sladky/AP
The United States is traditionally a leader in international disaster response, but it faces a special test in the aftermath of Haiti's devastating earthquake Wednesday. That's partly because of Haiti's proximity and the long history between the two countries, but also because of new challenges to the preeminent position held by the US in the Western Hemisphere.
It's of little relative importance, given the magnitude of the human suffering in and around the Haitian capital of Port-au-Prince, but China's search-and-rescue team was the first to reach there Thursday, preceding US teams by a couple of hours.
US bilateral response is important to America's image, both as a sign of commitment to the hemisphere and as a signal to the large Haitian community in the US, relief experts say.
US military personnel are already there, and a 72-member search-and-rescue team is expected to be on the ground by Thursday afternoon. It is also considering sending a contingent of Marines to Port-au-Prince because of the damages suffered by the United Nation's 9,000-strong stabilization force, known as MINUSTAH. Many of them were trapped in a building hit by the quake.
But while the US may play a leadership role, the relief and eventual reconstruction efforts will be international, given the extent of devastation in the hemisphere's poorest country, experts add.
---