Haiti earthquake: Outside Port-au-Prince, Haitians say they've been forgotten
Residents of the former colonial town of Léogâne say the outside world has neglected them in the scramble to help Haiti's beleaguered capital, Port-au-Prince. A view from the epicenter of last week's 7.0 earthquake.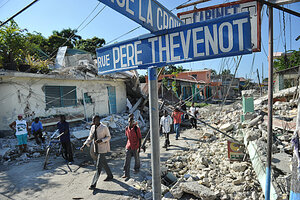 Mary Knox Merrill / The Christian Science Monitor
This coastal town 20 miles west of Port-au-Prince, framed by the trim of sugarcane fields and banana trees, had its heyday as a French colonial outpost in the 1700s.
But after last Tuesday's 7.0 earthquake, Léogâne, Haiti, will be known as the epicenter of what some are calling the worst humanitarian crisis in recent history.
Its downtown has the eerie feel of the "day after." The main streets are virtually empty, save residents trying to recover the bodies buried in the rubble. Only the brick arches of the main Roman Catholic Church, Saint Rose of Lima, remain standing.
Injured children moan on the ground outside their collapsed homes, their broken bones and wounds left unattended as a sense of being forgotten grows.
While Haiti's capital, Port-au-Prince, is overtaken by international rescue teams, and harrowing images of the quake´s aftermath have generated an outpouring of international aid, residents in outlying towns such as Léogâne say they have been left to fend for themselves.
"We are alive, so God has been good to us, but the government has not done anything," says Jean Brunel Lemaire, whose house, which he shares with his family and his brother´s family, has crumbled to the ground. Their neighbor´s house also fell, killing all five people inside. And all five remain buried there."We are the same country, but they are only focusing on Port-au-Prince," says Mr. Lemair. "They are being negligent and irresponsible."
Historical legacy
---
Follow Stories Like This
Get the Monitor stories you care about delivered to your inbox.