At Haiti golf course, 82nd Airborne runs a refugee camp
The 82nd Airborne division helicoptered in to a golf course in the hills above Port-au-Prince, and is now running a camp for 50,000 displaced Haitians, struggling for food and water.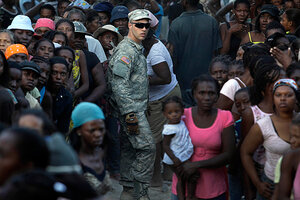 Julie Jacobson/AP
It was once a thing of beauty for Haiti's elite – a rolling nine-hole golf course, overlooking Port-au-Prince and the ocean beyond and framed by Hispaniola's central mountain range.

Today it's a patchwork of blankets, sheets, tarps and cardboard, sheltering as many as 50,000 displaced people.

At first, the draw for the displaced was the open space. "We're here because we have no homes or our homes are unsafe," said Louissaint Bannichton, a painter, who has constructed a cardboard dwelling for himself and family and friends, which he jokingly calls "the National Palace."

After the earthquake felled a wall along the lower part of the course, far from the clubhouse, residents of the hard-hit Delmas neighborhood poured into the unusual expanse of grass and set up camp.

Meanwhile, the US military was also looking for space – but one for landing helicopters. They narrowed in on the upper course, by the elegant, stone clubhouse and pool. "It's a nice neighborhood," said Captain John Hartsock, pointing out the US Ambassador's residence next door, "but that's not why we came here. We're here because of the big green space out there."

The U.S. military didn't talk to the club's owner, Coty Reinbold, until after Hartsock landed on the grass. The club's private security guards were present, which "made things interesting," Hartsock said, but they let him stay and eventually bring more than 300 troops from his 82nd Airborne Division's First Squadron 73rd Cavalry Regiment, from Fort Bragg, North Carolina. Reingold said he doesn't like speaking with journalists, but Hartsock reported that the club owner has been "bending over backwards" to help make the operation work.
---