We are the world 2010: New stars remake 80s anthem to help Haiti
Lady Gaga, Wyclef Jean, Jay-Z and dozens of other top music artists are rerecording the 1985 'We Are the World' hit single written by Michael Jackson and Lionel Richie in an effort to raise money to help Haiti after the Jan. 12 earthquake.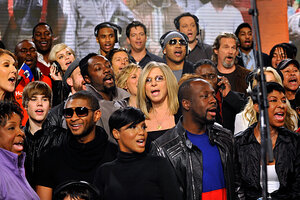 Kevin Mazur
There have been many disasters in the past quarter century. Most natural, some wrought by the hands of man.
None of these, however, was deemed worthy of a remake of the now-classic 1985 hit "We Are the World" – until a magnitude 7.0 earthquake leveled Haiti on Jan. 12, killing an estimated 150,000 and leaving 1 million homeless.
Now famed producer Quincy Jones, who recorded the original song written by Michael Jackson and Lionel Richie, is on a fresh quest to revamp the old magic using today's top pop artists.
Mr. Jones and Mr. Richie asked Moroccan-Swedish hit producer RedOne to take part in the rerecording, reports Rolling Stone.
"I know that [Richie] has been asked like 150-something times to redo 'We Are the World' and he said no to everything until this Haiti thing happened," RedOne told the Rolling Stone. "The moment he saw that it happened he was like, OK, 'We Are the World.' And to be one of the people they called to have fresh input to the song, to help produce the song – I have no words."
---