Haiti earthquake reignites debate over fast-tracking adoptions
Haiti and the US have cut red tape in order to facilitate adoption of the hundreds of children who are believed to be orphaned by the Jan. 12 earthquake, but some argue that rushing the process could jeopardize family reunification.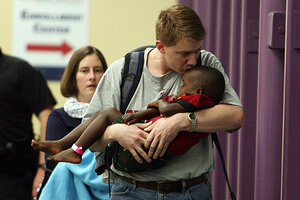 Red Huber/Orlando Sentinel/AP
The children lined up on low wooden benches at the House of God's Children orphanage form a typical Sunday School scene: The boys poke each other and laugh, the girls whisper or wait quietly.
Then a young woman whose head nearly reaches the plastic tarp shading the children sets down the Bible she carries in one hand and says it's time for the opening hymn. "Our great God blesses us," the small voices sing in unison, "His immense charity will last through eternity."
The 57 orphans at God's Children in Port-au-Prince's Delmas section – as old as 14 and as young as one month – lived through Haiti's calamitous earthquake earlier this month.
Now unbeknownst to them they are at the eye of a strengthening storm – one that is churning up the advocates of streamlined adoption procedures for Haiti against those who say too-hasty adoption can hurt the children and birth parents that in some cases still exist.
That debate is no newer than the issue of orphans in Haiti, the hemisphere's poorest country where dozens of only minimally regulated orphanages serve as prime alternatives for families in wealthier countries seeking to adopt.
Now the earthquake has sharpened the debate, by drawing heartstring-pulling attention to what experts estimate are thousands of new orphans left in the temblor's wake. While numbers remain only estimates, Haitian officials say that more than 100,000 people died in the disaster.
Five-month-old Berlando puts a human face on both those staggering numbers and the orphan-adoption controversy. A resident of God's Children for a week, Berlando was brought in by his grandmother, who could not care for him after both his parents were killed in the quake.
---