Haitian orphans: Americans fight red tape to hasten adoptions
The US government has expedited orphan transfers after the earthquake in Haiti. But aid groups worry about trafficking children whose parents or other relatives still may be alive.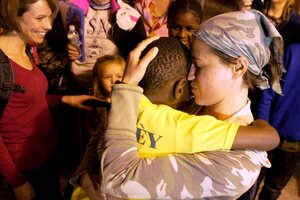 Sarah Grile/Palm Beach Post/AP
A shy girl named Dania cradled a doll during her "homecoming," and an extroverted boy named Jimmy sang for a crowd of reporters – among the first of some 900 Haitian orphans expected to be airlifted out of the earthquake-damaged island nation and brought to America.

The State Department's expedited transfer of Haitian orphans to adoptive parents in the United States has become one of the most ennobling, but also potentially controversial, moments of the Haitian earthquake tragedy, which has reportedly killed tens of thousands of people and left thousands of children orphaned.

The image of Haitian children arriving in the arms of new US parents is part of a massive outpouring of concern. Americans are now bombarding adoption agencies with offers to help care for the children. Some US aid organizations, including Roman Catholic groups in Miami, are urging the State Department to go well beyond expediting some 900 already-approved adoptions and bring thousands of earthquake orphans to the US as soon as possible.
But as rough conditions in Haiti raises pressure on authorities to airlift the children out, the disaster also exposes a complicated moral, ethical, and even political conundrum about how to measure a traumatized child's real needs in the midst of widespread destruction and loss of life.

"This is a battle between the gut and the mind: The gut wants to go get all the kids, and the mind has to be persuaded that, as good as the motives are, that may not be the right answer for all these kids," says Adam Pertman, executive director of the Evan B. Donaldson Adoption Institute, a nonpartisan think tank on global adoption policy.
---