Costa Rica elects first woman president, inspiring the region
Laura Chinchilla won Costa Rica's presidential election in a landslide victory Sunday that is eliciting cheers from women across Central America.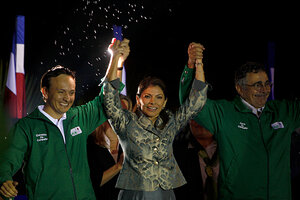 Esteban Felix/AP
San Jose, Costa Rica; and Panama City
Center-right politician Laura Chinchilla is set to become Costa Rica's first woman president after a landslide victory Sunday that is invigorating women in the tiny Central American nation and beyond.
Ms. Chinchilla received 46.8 percent of the votes, winning Sunday's presidential election in the first round. Her closest competition, left-leaning candidate Ottón Solís, captured just 25.1 percent of votes. Close on his heels in third place was Libertarian candidate Otto Guevara who received 20.9 percent.
"It's a significant moment in Costa Rica's history, to have a woman president," says Fernando Zeledón, political science professor at the University of Costa Rica. "It's a new chapter in history."

With her parents, husband, and 13-year-old son standing behind her, Chinchilla accepted the presidential victory Sunday night by pledging to make Costa Rica the first developed country in Central America, confirming her commitment to the goal to go carbon neutral by 2021, and promising to improve health and citizen safety. She asked Costa Ricans "to help to bring forward this immense responsibility."

Her speech was also one of gratitude as she thanked campaign workers and voters for "making it possible for a daughter of Costa Rica to, today, be president of the country."
Vote reverberates across the region
---