Chile earthquake: President Bachelet opens up to foreign aid
After days of holding off on accepting foreign aid offers in the wake of the Chile earthquake, President Michelle Bachelet has now welcomed help from abroad.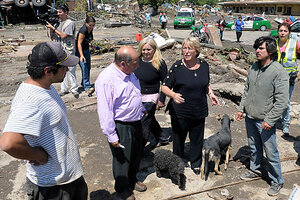 Alex Ibanez/Chilean Presidency/AP
Mexico City; and Santiago, Chile
In the hours following the magnitude-8.8 Chilean earthquake Saturday morning, one of the world's worst in a century, the country seemed miraculously spared, and the government declined immediate offers of foreign aid.
Chile, after all, is one of Latin America's richest, most developed nations. And, unlike Haiti – the continent's poorest and least developed country – Chile was far better prepared to deal with Saturday's monster quake.
But after the death toll doubled Sunday to more than 700, with entire villages submerged by a tsunami, Chilean President Michelle Bachelet appealed for aid worldwide and said the catastrophe the nation faced was "unthinkable."
IN PICTURES: Images from the magnitude-8.8 earthquake in Chile
---