Mexico issues travel warning over Arizona immigration law
One day after Mexican President Felipe Calderón condemned the new Arizona immigration law, Mexico issued a travel warning that 'all Mexican citizens could be bothered or questioned without motive at any moment.'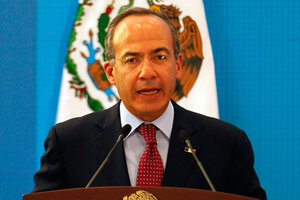 Eduardo Verdugo/AP
Americans are accustomed to State Department advisories cautioning them to steer clear of dicey protests and political turmoil in developing countries, including their neighbor to the south.
Since drug violence erupted in Mexico, the US has warned its citizens of "large fire fights" in towns across Mexico, particularly along the US-Mexico border.
Mexico always grumbles about US travel alerts. But today Mexico got payback.
IN PICTURES: The US/Mexico border
In big red letters on its "travel guide" on the exterior ministry website is a travel alert for "all Mexicans visiting, living, or studying in the state of Arizona."
Since Arizona signed a law that requires people suspected of being illegal immigrants to show proof of legal residence when asked by law enforcement, the Mexican government is warning citizens of the "adverse political atmosphere for migrant communities and for all Mexican visitors."
When the law takes effect, foreigners without the proper identification can be detained, and even held in migration detention centers, it warns. Until details of how the law will be implemented are clear, it reads, "all Mexican citizens could be bothered or questioned without motive at any moment."
It also warns of protests that have erupted because of the move.
On Monday, Mexican President Felipe Calderón condemned Arizona for a move that he says "opens the door to intolerance, hate, discrimination, and abuse in law enforcement," he said.
---