On Tehran visit, Brazil backs Iran nuclear fuel swap
Brazilian Foreign Minister Celso Amorim pushed Tuesday for an Iran nuclear fuel swap deal during a visit to Tehran. But Brazil's resistance to US pressure for UN sanctions on Iran might backfire.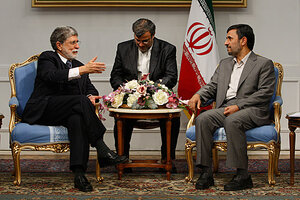 Vahid Salemi/AP
Brazil's foreign minister, on a visit to Tehran, said Tuesday that he hopes an Iran nuclear fuel swap deal could be revived to end ambiguities about Iran's nuclear intentions.
"Iran should have nuclear activities for peaceful purposes …," Celso Amorim said at a press conference Tuesday. "There is no political consensus that Iran has to be isolated or for Brazil to move in that direction."
The visit by Mr. Amorim, which paves the way for a state visit by Brazil's President Luiz Inácio Lula da Silva next month, comes as the US is pushing for a new round of United Nations sanctions on Iran's nuclear program.
Brazil has resisted US pressure to back sanctions, including during a trip to Brazil by US Secretary of State Hillary Clinton last month. And as a temporary member of the UN Security Council with growing economic and political ties to Iran, Brazil may be keen to see what kind of deals can be worked out with the Islamic Republic.
Amorim's words in Tehran also belie President Lula's desire for Brazil to maximize its new clout on the world stage, refusing to choose sides or bow to pressure from traditional powers.
Brazil argues that isolating Tehran is likely to backfire by prompting Iran to cease any semblance of cooperation with the West.
But many analysts say that the Latin American giant's position of support for Iran might be the one to backfire by straining its relationship with the US.
---