In Haiti, international relief targets rats and bugs
Large pest control businesses like Terminix and Orkin are part of an international relief effort to improve sanitation in Haiti refugee camps and stop the spread of potentially dangerous pests.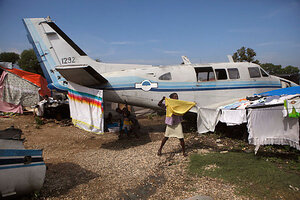 Esteban Felix/AP
The swarm around the garbage can in the tent camp of Corail Cesselesse, north of Haiti's capital, was not the usual composition of flies or mosquitoes. "Six different kinds of flies," said Terminix's Robert Young.
Mr. Young is one of a 14-member international relief delegation of the National Pest Management Association and a volunteer fact-finder trying to figure out the best way to control pests in post-earthquake refugee camps and stop the spread of disease.
Wearing blue, long-sleeved shirts and work boots, the men buzzed around Haiti's drainage ditches, stagnant water, and piles of garbage to determine what sort of creatures were thriving and what they could do to reduce their numbers.
"Our mission is to evaluate, look, listen and learn," said Rob Lederer, NPMA's executive vice president. "This is not a public relations opportunity. We want to figure out what the greatest public health threats are facing the Haitian people, go back to the states, come up with a plan, and then help the government of Haiti implement it."
Working with the country's four major pest control companies, as well as the Minister of Environment, NPMA hopes to identify trouble spots in a country where insects and rodents are as numerous as the growing piles of garbage. The increase in identified cases of malaria and dengue fever – diseases related to pests – has been moderate so far, but there are concerns of much larger problems if action isn't taken.
---