Guatemala becomes a model for crime investigation
A United Nations-backed crime investigation team, the International Commission Against Impunity in Guatemala, roots out corrupt police and politicians in what could be a model for the region.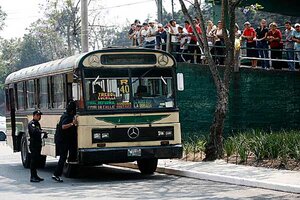 Daniel LeClair/Reuters
Guatemala may seem an unlikely home for a crime fighting and anticorruption model. After all, the country solves only 2 percent of the murders there.
But globe-trotting investigators – headed by a Spanish judge and lawyer who once opened a case against Chilean dictator Augusto Pinochet – are winning international recognition for the work they've done here.
The International Commission Against Impunity in Guatemala (CICIG) began work as an independent investigative body two years ago under an agreement between the United Nations and the Guatemalan government. Wielding unprecedented power for a nongovernmental group, CICIG has forced the removal of thousands of police officers, prompted the arrest of dozens of corrupt businessmen and officials, and solved some of the country's most heinous crimes.
Now, other poor countries are looking to duplicate CICIG's success, with Honduras and El Salvador joining Guatemala this month in asking the United States for help in creating a regionwide body like CICIG.
"There is clearly increased demand from states around the world that are looking for the UN to help strengthen institutions and combat crime," says Andrew Hudson, senior associate at Human Rights First, an advocacy group in New York. "CICIG has become a model because it is equipped with a unique set of tools. The key is that it's embedded into the local context and it's doing field-based investigations while also strengthening the Guatemalan institutions."
---
Follow Stories Like This
Get the Monitor stories you care about delivered to your inbox.