Felipe Calderon calls Arizona immigration law racial profiling
In a speech today to the US Congress, Mexican President Felipe Calderon said the new Arizona immigration law amounts to acceptance of racial profiling. He also called for an assault weapons ban.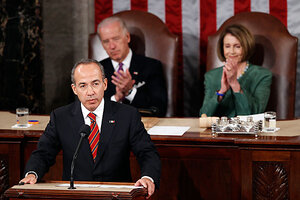 Alex Brandon/AP
In the first address to the US Congress by a foreign leader this year, Mexican President Felipe Calderon reiterated his stance that the new Arizona immigration law amounts to a tacit acceptance of racial profiling.
"I strongly disagree with the recently adopted law in Arizona," he told American lawmakers. "It is a law that … ignores a reality that cannot be erased by decree" and "introduces a terrible idea using racial profiling as a basis for law enforcement."
But the law – and any potential overhaul of the US immigration system – is not only being watched by Mexico but by Latin America as a whole.
IN PICTURES: US/Mexico State Dinner
In Colombia, where residents have long fled internal violence and sought better-paid jobs in the US, Colombians interviewed say they support Mexico's stance against Arizona and hope that it makes a difference in the immigration debate overall.
"Immigrants only do the work that Americans will not do," says Martin Botero, a pollster at the University of Antioquia in Medellin and has several family members in Connecticut, many of whom first arrived in the US illegally. "The law is unfair, and the federal law in general needs to be reformed."
---
Follow Stories Like This
Get the Monitor stories you care about delivered to your inbox.