Jamaica's Bruce Golding denies link to drug lord Dudus Coke
Jamaican Prime Minister Bruce Golding angrily dismissed reports that he is an associate of Dudus Coke, the alleged drug lord and gang leader. Mr. Golding vowed to root out gang leaders, or 'dons', from Jamaican communities.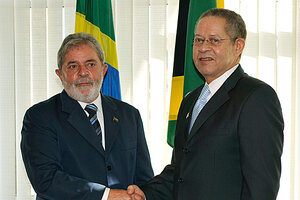 Jose Varella/AP
Jamaican Prime Minister Bruce Golding angrily struck out at media reports that described him as an associate of reputed drug lord and Shower Posse leader Christopher "Dudus" Coke, even as he promised to use a Jamaica state of emergency to root out the powerful gang leaders, or dons, that control large swathes of Kingston, the capital.
Jamaica's public defender said Wednesday that 44 deaths have been confirmed in the fighting in Kingston so far. Most of the dead are civilians. The fighting has centered on the Shower Posse stronghold of Tivoli Gardens in western Kingston, though Jamaican press reports said that Mr. Coke, who Jamaica has vowed to arrest and extradite to the US, had slipped out of the area.
Mr. Golding's fury was ignited by two reports. An ABC News report cited unnamed officials saying that the US views the Jamaican prime minister as a business partner of Coke, who's wanted in the US on drug trafficking charges. An article in The Independent described the Shower Posse as an annex of Golding's ruling Jamaica Labour Party (JLP).
---