Mexico mass grave highlights gruesome drug war
Authorities say a Mexico mass grave, in which 55 bodies were found in an abandoned silver mine, is the work of the narcotraffickers involved in the country's brutal drug war.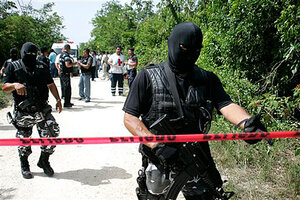 Israel leal/AP
The news of Mexico's mass grave was bad enough when it first broke: At the end of May, Mexican authorities said they found about two dozen decomposing bodies in an abandoned silver mine outside the pretty town of Taxco in western Mexico.
But it's gotten worse. Guerrero State Attorney General Albertico Guinto said yesterday that the grisly tally has grown, with 55 bodies found deep in the shaft of the Concha mine, presumably the victims of drug traffickers.
Mr. Guinto said in a statement that the bodies are in various states of decay, indicating that the victims were killed at different times. (See statement here.) Only four have been identified, including the warden of a local jail.
IN PICTURES: Mexico's drug war
This type of horror has increasingly found its way to tourist areas and quaint towns far away from the US-Mexico border, where most of the violence is played out between drug traffickers vying for control of drug routes serving the US market.
Tourism is down in Silver Town
---