Mexico sees silver lining in Arizona immigration law
The Arizona immigration law, and a similar one passed by a town in Nebraska, is supported by a majority of Americans. But Mexico sees broader American opposition to these immigration initiatives than in the past anti-immigrant efforts.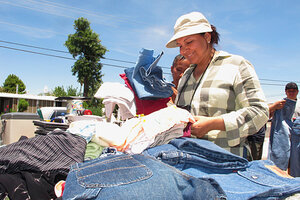 Amanda Lee Myers/AP
As if the Arizona immigration law intended to scare off illegal immigrants were not bad enough, Mexicans lament, now a town in Nebraska has voted to bar undocumented residents from renting homes or securing jobs.
From the view south of the border, times could not be worse in terms of America´s disregard for Mexico.
But a curious thing is happening. Mexicans are also seeing a new level of American discontent percolating over US immigration initiatives, much of it coming from unexpected corners.
 "I know that there are many Americans for the law, but there are many against it too," says Angel Hernandez, a Mexico City resident washing his car on a recent day. "There are many Americans uniting to support us."
IN PICTURES: The US/Mexico border
That support, note Mexicans, seems to come from the very top. President Obama says he'll challenge the Arizona initiative in court. On a recent visit to Ecuador, US Secretary of State Hillary Clinton confirmed that the administration intends a lawsuit.
---