Prison chief allegedly sent inmates to conduct Mexico birthday party massacre
A prison director is suspected of arming inmates and sending them on the July 18 Mexico birthday party massacre that killed 17. To some, Mexico's drug war seems 'the script of a science fiction movie.'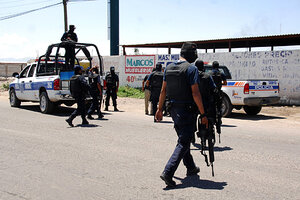 Ramon Sotomayor/AP
When gunmen burst into a private birthday party on July 18 and fired on guests, killing 17, the attackers were initially suspected to be members of one of Mexico's drug gangs, which have killed thousands of people in escalating violence over the past several years.
Nobody guessed they were jail inmates on assignment from their prison director.
It turns out that the gunmen behind the July 18 Mexico birthday party massacre had already been incarcerated for crimes in Mexico's drug wars. Prison guards reportedly lent vehicles and weapons to the inmates to carry out a 'revenge attack' in the northern city of Torreon. Afterward, the inmates drove back to their cells in the nearby city of Gomez Palacio.
IN PICTURES: Mexico's drug war
"According to witnesses, the inmates were allowed to leave with authorization of the prison director ... to carry out instructions for revenge attacks using official vehicles and using guards' weapons for executions," Ricardo Najera, a spokesman from the attorney general's office, revealed Sunday.
The attack may have been motivated by rival drug trafficking gangs, Mr. Najera said, though innocent people were among the victims. The prison director and security guard, among others, have been put under house arrest.
Corrupt police force
---