Mexico mass grave highlights abuse of migrants heading to US
The Mexico mass grave of 72 bodies is seen as the latest evidence that drug cartels are increasingly preying on migrants headed to the US.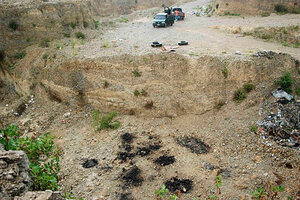 Reuters
With attention focused on the US tightening its borders and stepping up deportations, mostly of undocumented Mexicans, the plight of migrants crossing through Mexico is often overlooked.
Their reality became shockingly clear on Wednesday with the discovery of a Mexico mass grave. The 72 corpses are believed to be of Central and South Americans who were journeying through the deserts of Mexico in hopes of reaching US soil. Mexican officials are investigating whether the migrants were victims of drug cartels that are increasingly reliant on kidnappings, recruitment, and extortion of undocumented migrants to pad their pockets.
"It's absolutely terrible, and it demands the condemnation of all of our society," government spokesman for security issues Alejandro Poire said during a press conference Wednesday.
STORY: Mexico mass grave highlights gruesome drug war
President Felipe Calderón's office issued a statement condemning the attack, adding that government action against drug cartels has led them to extort and kidnap migrants as a financing mechanism. "This is a result of the activity of the state against them, which has significantly weakened the operational capacity of criminal groups," the statement said.
Report: 10,000 migrants kidnapped in six months
An estimated 10,000 migrants were kidnapped in Mexico between September 2008 and February 2009, according to a report from the National Human Rights Commission. Amnesty International has urged the Mexican government to do more to protect migrants passing through.
---