Felipe Calderón marks four years of reform efforts stymied by Mexico drug war
The tenure of President Felipe Calderón, who is preparing to give his fourth state of the union address, has been marked by the brutal Mexico drug war and political infighting that's stymied reform.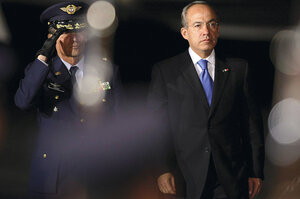 John Vizcaino/Reuters
Mexican President Felipe Calderón kicked off his presidency in December 2006 with an ambitious reform package. The can-do technocrat was going to tackle Mexico's entrenched corruption, disband its behemoth quasi-monopolies, and – most important – take the fight to Mexico's burgeoning drug cartels.
But in the fourth year of his six-year term, marked by handing his state of the union address to Congress today, it's become clear that the country's brutal drug war has sapped his administration's energy and that political infighting has squelched his reform agenda. Mr. Calderón will formally deliver his speech Thursday morning in a ceremony.
To be fair, Calderón is credited, more so than past presidents, with trying hard to push through energy, fiscal, and education reform. He scored a big victory early in his term in revamping the state-worker pension system.
IN PICTURES: Mexico's drug war
One of his boldest moves was the shutdown of the giant state electricity company last year that had long reigned over Mexico City.
Moreover, people still like him. He enjoys a 57 percent approval rating, according to a new poll by the Mexico City-based firm Buendia & Laredo. But the most necessary reforms in the country, observers say, have ultimately been so watered down that they have been rendered essentially meaningless.
"[Calderón] has a pretty tough road ahead," says Alejandro Schtulmann, head of research at the Emerging Markets Political Risk Analysis consulting firm in Mexico City. "There will be more reforms, but what we are going to see in the next couple years is a piecemeal approach."
---