La Barbie: from football star to feared drug lord
La Barbie, whose real name is Edgar Valdez Villarreal, was a Texas football star before he moved to Mexico City and joined the Sinaloa Cartel.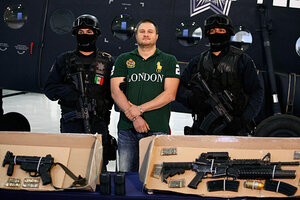 Alexandre Meneghini/AP
Clambering to proclaim victory after more than three years of bloody narcotics warfare, Mexican authorities paraded a Texas-born accused kingpin before the media Tuesday and offered abundant details of his climb through the violent drug underworld before his capture Monday in a mountain hideout.
While speculation surged that Mexico would deport Edgar Valdez Villarreal, a 37-year-old former football star from Laredo, Texas, to stand trial in the United States, where he's still a citizen, there was no immediate sign of action by Mexico or the US.
Federal Police commissioner Facundo Rosas said the capture of Valdez, who's known by the unlikely nickname of "La Barbie," came after a yearlong hunt that involved as many as 1,200 law enforcement officers.
By Monday afternoon, a ring of security officers encircled the rustic mountain house in Salazar, about 20 miles west of Mexico City, where Valdez had holed up, Rosas said. Mobile phone service in the area was spotty, and the target and six underlings couldn't summon backup to fight their way free, he said. They were detained around 6:30 p.m. without any gunfire.
---