As media circus wanes, Chile miners' families turn spotlight on reporters' antics
Sitting around a campfire in the Atacama Desert, family of the rescued Chile miners laugh about the media's excesses over the past 70 days.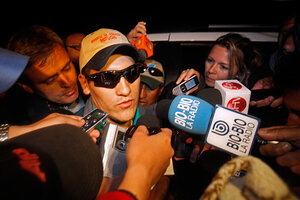 Natacha Pisarenko/AP
At 2 a.m. Thursday in Chile's Atacama Desert, family members of newly freed miners gathered around a campfire at Camp Hope. The ubiquitous flat-screen televisions that had aired the rescue of 33 trapped miners were off, and it was for once possible to hear the hiss and pop of charcoal.
Families were ready for the end of two months of a media frenzy that had opened their private lives to the public.
Three of the miners who spent 70 days trapped in northern Chile were released from the hospital later that day and another 10 were expected to be released Friday, allowing families to return home after becoming famous as a result of the Aug. 5 mine collapse.
RELATED: 5 reasons the Chile mine rescue was so successful
With their brothers, godsons, and nephews safe in the hospital, it was finally time to laugh by the warmth of the crackling fire. Miners' relatives chatted and joked with some of the others who had been at the camp longest – a volunteer, a contractor, a photographer. Most of the jokes were at the expense of news reporters, whose overzealousness or lack of preparation was the biggest cause for laughter.
The plastic tubes that had lowered food and water to the miners through narrow boreholes were called "doves." One family member, who had heard thousands of questions from reporters since arriving at the mine two days after the accident, giggled over one particular question: How, the journalist had asked, are the doves trained to fly down into the mine?
"It's not that we hate the press," Juan Hermosillo, uncle of miner Carlos Barrios, said earlier in the day. "If the press hadn't been here who knows, maybe none of this would have happened," he said, gesturing at the $15 million rescue effort's drills, cranes, and helicopters.
---