Can young mom Marisol Valles Garcia clean up a dangerous Mexican town?
Marisol Valles Garcia, a young woman named police chief of a Mexican border town gripped by drug violence, is garnering attention and promising a new approach.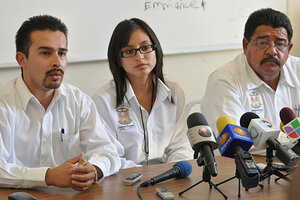 Raymundo Ruiz/AP
Some may call her foolhardy. But 20-year-old Marisol Valles Garcia, the young college student who has just accepted a job as police chief in a troubled border town in Mexico, has garnered praise around the globe for being fearless.
"A wonderful example." "An inspiration." "A role model for young girls." These are some of the comments floating across social media networks. And judging from the news coverage – with her story posted in newspapers and heard on radio programs from England to Russia – the young wife and mother is bringing hope far beyond the town, Praxedis G. Guerrero in the northern state of Chihuahua, where she will be on patrol.
In towns such as hers, gripped by violence connected to the drug trade, "police chief" is often the hardest job to fill. Heads of forces are commonly killed off in turf wars between rival traffickers – sometimes because they are moonlighting for one gang, other times because they are standing in the way of lucrative sales. At times, entire forces have quit en masse in frustration and fear.
But Ms. Valles Garcia, who is finishing her degree in criminology, says that the community must overcome fear and bring morals and values back to a ravaged corner of Mexico. "Yes, there is fear," she told CNN en Español Wednesday in an interview. "It's like all human beings. There will always be fear, but what we want to achieve in our municipality is tranquility and security."
---