Hugo Chávez embraces Iran and Syria, wins Russian support for nuclear program
Venezuelan President Hugo Chávez is in the midst of one of his world tours, making friends with US enemies and getting support for his country's nascent nuclear program.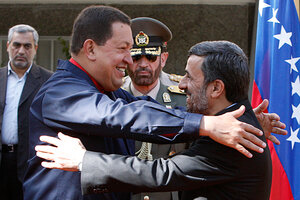 Vahid Salemi/AP
Yesterday he was in Syria. Wednesday he was in Iran. That was after visiting Russia, Belarus, and Ukraine. Now he is off to Libya and Portugal.
And all within 10 days.
Venezuelan President Hugo Chávez's world tours, often to countries with constrained or outright hostile ties to the United States, are nothing new. He says plainly that their intention is, in part, to counter American "imperialism."
Yet if this latest global foray does not surprise analysts or rattle geopolitics, some say it could actually damage Mr. Chávez at home. It comes after legislative elections in Venezuela that saw his political party lose seats to the opposition. While Chávez still commands impressive popularity at home, problems such as inflation and crime have loosened a presidential grip that once seemed iron-tight.
---