Venezuela's Chávez softens stance
After a series of setbacks, leftist President Hugo Chávez welcomed his conservative nemesis – Colombia's Álvaro Uribe – to a reconcilatory meeting on Friday.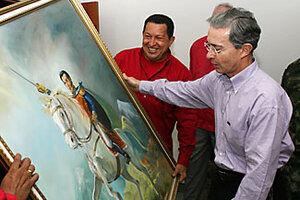 Reuters
For their first face-to-face encounter since a diplomatic crisis erupted in late 2007, Venezuelan President Hugo Chávez chose to host Colombian President Álvaro Uribe in this oil refining town in Venezuela, home to the largest refining complex of its kind in the world.
If the setting was intended as a display of power, however, it worked only insofar as oil wealth goes.
Since their relationship deteriorated into insults and accusations – after Mr. Chávez in March sent tanks to the Colombian-Venezuelan border in protest of a Colombian air raid in Ecuador and after Colombia charged Chávez with aiding Colombian leftist rebels – the tides have shifted for these two South American neighbors.
Both leaders gained Friday by promoting their reconciliation and both were equally ebullient about it. "We're destined to be together," said Chávez, showing off a book on Simon Bolivar, the South American independence leader, which Mr. Uribe had brought him. "We're brothers," added Uribe.
But while Chávez has suffered a series of international and domestic setbacks recently, Uribe's popularity has soared with the stunning rescue of French-Colombian politician Ingrid Betancourt and 14 other high-profile hostages held by the Revolutionary Armed Forces of Colombia (FARC) rebels. Many observers say that a power shift is under way, and that Chávez can no longer afford to dismiss the Colombian leader as merely a "pawn" of the United States.
---