Madonna tastes Mexican bureaucracy in opening Hard Candy Fitness gym
The hurdles that Madonna overcame to open Hard Candy Fitness are emblematic of the long ride of permits, stamps, and waits faced by business owners in Mexico.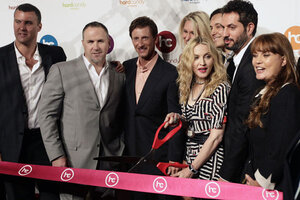 Henry Romero/Reuters
Madonna, always the tough girl, did not let the news of drug-fueled beheadings and butchering in Mexico scare her off.
The pop queen inaugurated her Hard Candy Fitness gym in a posh Mexico City neighborhood on Monday night, with Mexico City Mayor Marcelo Ebrard in the crowd.
"A lot of places I go to are considered dangerous whether that's Tel Aviv or Rio, [but] that never stops me from going somewhere to put on a show. I'm not hindered by that. I have good security, and I'm not worried about it," Madonna was quoted as saying at the celebration.
But if drug traffickers could not keep her away, something arguably even scarier might: Mexican bureaucracy.
Two days after the red-carpet gala, authorities told her she could not open doors because she lacked the proper permits and failed to show that she had enough parking spaces for users. The gym has since sorted out their paperwork, but this could just be the beginning of a long ride of permits, stamps, and waits faced by business owners in Mexico.
Demetrio Sodi, who heads the Miguel Hidalgo borough where the gym is located, told Agence France-Presse on Wednesday before the issue was solved: "I think it's very good for the city, very good for the country that Madonna chose Mexico City for a gym, but as borough head I have the authority to check, for example... that there won't be any accidents, that there are emergency exits, that's what we have to check."
---