How WikiLeaks may give Nicaragua's Daniel Ortega an upper hand with US
WikiLeaks revealed that Nicaragua received 'suitcases full of cash' from Venezuela, but also showed the limitations of US intelligence-gathering in Ortega's country.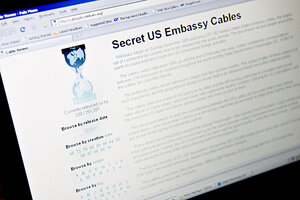 Nicholas Kamm/AFP/Newscom
Nicaraguan President Daniel Ortega and other top officials in his Sandinista administration have bankrolled their political campaigns and party activities with "suitcases full of cash" from Venezuela and narco-dollars from Colombian drug lords, according to a new batch of cables that WikiLeaks published Dec. 6.
The latest series of leaked diplomatic cables, allegedly written over the past five years by the current and previous US ambassadors to Nicaragua, detail the worrisome decline of democracy under Mr. Ortega, who is described as corrupt, power-hungry, and unscrupulous.
But the cable leak also reveals the limitations of United States intelligence-gathering in Nicaragua, potentially empowering Ortega as he attempts to sidestep the Constitution and run for reelection in 2011. Ortega, whose political career suggests he's not easily shamed by accusations or scandal, could even gain the upper hand from the latest WikiLeaks dump, especially if US diplomats embarrassed by "Cable Gate" try to tip-toe around him.
---