Donald Trump to Panama: 'You're hired!'
In an interview, two of Donald Trump's children outline the firm's investment vision for Panama, unveiling the first Trump tower outside the US.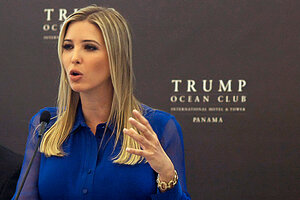 Arturo Wong/EFE/Newscom
The global real estate slump has not soured Donald Trump's flavor for grandiosity. He's merely going global with it. In Panama.
This week two of his three children, who all serve as executive vice presidents to The Trump Organization, traveled here to unveil the first international building in their family's real estate empire: The Trump Ocean Club, not just the largest building south of the border, but the world's first Trump tower outside America.
"This building is a very important bridge for us as we begin to expand internationally, not just through South America, but the world," Ivanka Trump, and executive vice president of development and acquisitions, told the Monitor during an interview in the hotel's partially finished "sky lobby" looking out over the ocean bay and city skyline.
Fittingly, the Trump's "bridge" to the global market is a country that for the past century has formed a bridge of its own between two hemispheres and two oceans. And now, as this robustly growing country of 3.5 million people tries to bridge from its olive-drab, banana-republic past to a first-world nation, it's thankful for the Trump brand.
"It means we are world class," boasts Panamanian Tourism Minister Salomon Shamah. "Before Panama was watching the rest of the world, and now the rest of the world is watching us."
Laying down Trump in Panama
---