Donald Trump drops fresh hints about potential run for president
Donald Trump, in Scotland to accept an honorary degree, said he had no interest in running for president 'until recently.' The US would do 'unbelievably well' with 'proper leadership,' Donald Trump said.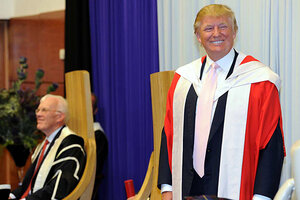 Kami Thomson/AP
Donald Trump used a trip to Scotland on Friday to give his strongest hint yet that he may run for US president in 2012.
After picking up an honorary degree from a Scottish university, the American property tycoon told journalists his country needs better leadership and he might run against President Obama.
"A lot of people have asked me to do it and until recently I would have no interest," he said.
Trump said Obama was "having a very hard time."
"I think he would be the first to admit that things have not been easy for him. The US is a great country and it's not doing as well as it should. It could be doing much better and I think, with proper leadership, it would do unbelievably well," Trump said.
He said it was too early to say who his potential running mate would be, and laughed off suggestions that he might run with former Alaska Gov. Sarah Palin.
Trump received an honorary doctorate in business from Robert Gordon University in Aberdeen, despite protests from local residents who claim his massive 750 million pound ($1.2 billion) golf resort development could force them out of their homes.
Some academics from the university joined the campaign against Trump, arguing that the tycoon doesn't deserve the degree. But the university counters that students have much to learn from his business savvy.
---