China's role in realizing 'Latin America decade'
Brazilian President Dilma Rousseff arrived in China today accompanied by 300 business leaders on a visit aimed at boosting a growing economic partnership.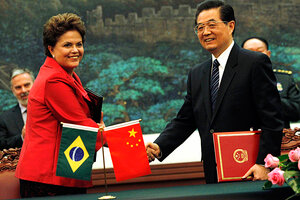 Ng Han Guan/AP
Brazilian President Dilma Rousseff landed in China today to shore up trade and business ties, just a month after President Obama traveled to South America to lobby on behalf of US businesses.
The presidential hopscotch underscores the growing competition between the US and China for a foothold in Latin America. While the United States is an important partner, says the chief of the Organization for Economic Cooperation and Development (OECD), China is "the perfect fit" as Latin America looks to boost infrastructure, technology, and overall economic growth.
"There is no limit," says OECD Secretary-General Angel Guerria, referring to Chinese investment opportunities in Latin America. Average economic growth regionally was 5.5 percent in 2010, he says, with a slightly lower projection for this year. Millions of jobs are being created, he adds, and with the region's vast natural resources future economic growth "potential is enormous."
---