Brazil becomes largest nation yet to legalize civil unions
Brazil on Thursday became the sixth country in Latin America, in addition to Mexico City, to extend rights to gay and lesbian couples but stopped short of legalizing gay marriage.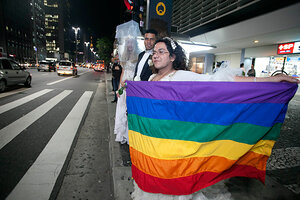 Zuma/Newscom
Rebuffing Latin America's machista stereotype, Brazil on Thursday legalized same-sex unions nationwide. The decision makes it the largest among a league of about 25 nations that recognizes civil unions for gay couples.
Brazil's Supreme Court voted 10-0 to recognize the unions, which will allow gay couples here to share in each other's inheritances, pensions, and health plans, and a legal route to divide belongings after a separation.
Gay rights activists celebrated the move as an important milestone that could resonate regionally, since Brazil itself was influenced by the debate following Argentina's 2010 legalization of gay marriage, says Marinalva Santana, a spokeswoman for the Brazilian League of Lesbians.
"The movement has been very strong," says Ms. Santana, who is also a member of the National Council on LGBT (Lesbian Gay Bisexual Transgender) Rights. "The society itself in Brazil despite being very religious ... has processed this debate in a very positive way, and the media has had a good role."
---