Cubans may no longer be stuck on Caribbean isle
President Raúl Castro's economic reforms in Cuba appear set to deliver long-sought freedom, even if few can afford to go anywhere.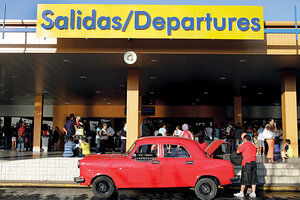 Franklin Reyes/AP
Ariel Pérez Romero, a security guard in Havana, has never traveled outside Cuba. The government tightly controls movement of its 11.2 million citizens, requiring would-be tourists to purchase an exit visa. Many are denied.
"All Cubans are looking for a chance to travel, to know other places, other ways of life, but here it seems that is a crime," says Mr. Pérez, who dreams of a trip to Paris and London, and maybe a visit to Madrid's Santiago Bernabéu soccer stadium to catch a Real Madrid match.
His dream came closer to reality this month when the Cuban government published 313 economic reforms approved during April's Communist Party Congress, the first held in 14 years as part of an economic shake-up under President Raúl Castro. One of the most-talked-about points is to "study a policy that allows Cubans living in the country to travel abroad as tourists."
"I hope these new laws mean an end to all the paperwork and money that it takes now," says Pérez.
---